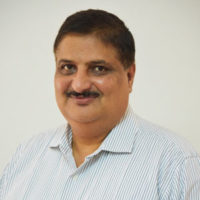 Cdr. H. N. Satish (R)
Professor and Head
Qualification:MSC , PG Dip ( PM &IR).
Area of Specialization:HRM, Marketing, CSR & Sustainability.
Research experience: Teaching : 8 years,  Research:4 years, Industry :10 years
Research:
Has conducted Extensive research activities in Aviation Meteorology @ Aiports in Mumabi, Goa, Port Blair &VIzag,
Utilisation of Aircraft Radar for weather & cloud measurement, Working on Cyclone Detection & Ranging Radars in Mumbai, Kolkata, Vizag& Chennai& Oceanography ( Sonar) during tenure @ Indian Navy.
Has been part of Scientific& Oceanographic research vessels sailing expeditions for recording & analysis of SST, Current, Wave Modelsin Indian Ocean, China Sea, Andaman Sea, Red Sea& Persian Gulf.
Currently Doing Project/Activities in Business Analytics & Skill Development.
Development of Startup Cell & Business Incubator.
Publications: National : 01, International:05
Paper Presented: 05
Workshop /Conference / Seminar/ FDP attended (Give Numbers)  : Workshop:20,  Conference:30, Seminar:25, FDP:04
Member of professional bodies
:
Member of Ex _ Servicemen Association in Health.
Consultant to companies in HRM& CSR.
Achievements:
Has done Researchin Meteorology & Oceanography as member of Scientific Expedition to Antarctica.
Has set up IGNOU Study centres for upgrading their Educational Facilities for Sailors.
Has planned & Executed New Syllabus & Learning Scientific/Technology methodologies for Cadets in Naval Academy.
Has revamped the Training Departments in companies to focus on Upgrading skills & revenue generation for Finance Companies.
Has set up standards in Productivity & Developed scales to measure them for construction Industry.
Has developed Optimisation of Cost & Resource planning for Logistics company.
Has developed & Implemented Performance Management System ( Balanced Score Card ).
Has carried out CSR &Sustainability projectsduring My tenure in Defence &Industry.
Has been a part of Strategic team of developing vision 2025.
Has been a Mentor to Staff & Ex – students in planning their career & doing better in Business.
Other details (If any):
Has developed & Scaled up Health Awareness Project for Health Industry.
Has vast Administrative expertise in Successful implantation of Social Projects, Welfare measures, Naval Public Schools, Schools for Physically/Mentally challenged.
HR& Administrative support in Setting up & Commencement of Tehri Hydro Development Project near Dehradun from Day ONE & execution.
Has served in UAE( Dubai), Oman ( Muscat) & Libya ( North Africa) in Finance, oil & Gas & Construction Industries.
Has successfully resolved many IR& Union disputes & successfully negotiated to focus on productivity.
Conducted Advance Leadership camps, Combined Annual training camps, NauSainikcamps and Republic day camps for National cadet Corps(NCC) as Camp Commandant managing a strength of 600 – 1,000 cadets @ Mysore, Karwar, Udupi, Mangalore, Hassan, Visakhapatnam, Tuticorin, Jaipur, Gauhati, Pune, Miniocy& Lakshadweep, Nicobar Islands& many locations.