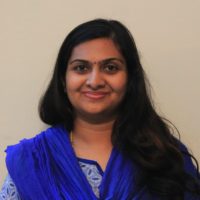 Dr. Preethi G. A.
ASSISTANT PROFESSOR
Qualification: M.Sc.,Ph.D.,UGC-MANF
Area of Specialization: Cancer biology and Drug discovery .
Subject Handled: Protein and amino acid metabolism, Genetic engineering, Bimolecules.
Research experience:  Research: 4 Years Teaching: 1 year
Publications: International: 5 Conference proceedings: 2
Paper Presented: 15
Workshop /Conference / Seminar/ FDP attended   : Workshop:2, Conference:22,  Seminar: 5, FDP:1
Member of professional bodies: Member of Society of Biological Chemist  (India)
Honors and Awards:
Best Poster Award for "Time- and dose dependent modulation of Nrf2 expression and activity by benzoic acid (BA) and dihydroxy benzoic acid (DHBA) in vitro" at National Conference on Integrative medicine for health care: Emerging scientific knowledge and new therapies held at JSS Academy of Higher Education & Research, Mysuru, Karnataka in  February 2018
UGC-MANF Senior research fellowship (MANF-2014-15-JAI-KAR-34099) from 1st July 2016 to carry out the Ph.D. research work.
UGC-MANF Junior research fellowship (MANF-2014-15-JAI-KAR-34099) from 1st April – 30th June 2014 to carry out the Ph.D. research work.
Best Oration award for, "Analysis of Anti-Oxidant, Anti- Inflammatory and Anti-Cancer Properties of Naturally Occurring Benzoic Acid Derivatives" at National conference on, recent trends in bioorganic chemistry and its application to society held at Sarada Vilas College, Mysore in September 2014.
Best poster presentation award for, "Structural requirements of dietary phenolics for exhibiting potent anti-oxidant and anti-inflammatory activities" at international Food Convention held at CFTRI, Mysore in December 2013
Secured third position in poster presentation on, "Cardiovascular Diseases Secondary to Metabolic Disorder: Mechanisms and Therapy", at the 22nd International Annual Conference of The Indian Society for Atherosclerosis Research, organized by the Department of Studies in Biochemistry, University of Mysore, Mysore in December 2009.
Papers Published
Preethi G. Anantharaju, Bandi Deepa. Reddy, Mahesh A. Padukudru, M. Kumari Chitturi, Manjunatha G. Vimalambike, SubbaRao V. Madhunapantula, "Cinnamic acid derivatives retard colorectal and cervical cancer cell lines by targeting Histone deacetylases (HDAC)"  PLoS One  2017 Nov 30;12(11)
Preethi G. Anantharaju, Bandi Deepa. Reddy, Mahesh A. Padukudru, M. Kumari Chitturi, Manjunatha G. Vimalambike, SubbaRao V. Madhunapantula, "Naturally occurring benzoic acid derivatives retard cancer cell growth by inhibiting histone deacetylases (HDAC)". Cancer Biology and Therapy 2017 Jul 3;18(7):492-504.
G. Anantharaju, Prathima.C.Gowda, Manjunatha G.Vimalambike, SubbaRao V. Madhunapantula "An Overview of Dietary Phenolics for the Treatment of Cancers" Nutrition Journal 2016 Dec 1;15(1):99.
Sujatha P, Preethi G. Anantharaju, Prashanthkumar M. Veeresh, SumithDey, Venugopal Reddy Bovilla and SubbaRao V. Madhunapantula, "Diallyl Disulphide (DADS) retards the growth of Breast cancer cells in Vitro and in Vivo Through Apoptosis Induction" Biomed Pharmacol J 2017; 10 (4).
Sunelle Rademan, Preethi G. Anantharaju, SubbaRao V. Madhunapantula, Namrita Lall, "The anti-proliferative and antioxidant activity of four indigenous South African plants" African Journal of Traditional, Complementary and Alternative Medicine"vol 16, No