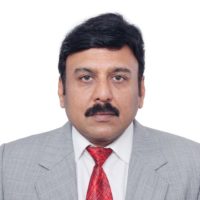 Dr. Satish G. Chetty
Professor & HoD – Tourism
Qualification:M.Com (Management), MBA (Tourism), Ph. D.
Area of Specialization: Tourism Management.
Work experience: 33 years
Research: International Tourism.
Research Publications: National : 9
Paper Presented: 11
Workshop /Conference / Seminar/ FDP attended (Give Numbers)  : FDP:2
CONFERENCES & CONVENTIONS
Attended the following as a delegate
Abroad:
TAAI – 52nd ANNUAL CONVENTION held at GENTING , MALAYSIA in Sept 2003.
TAAI – 54th ANNUAL CONVENTION held at COLOMBO, SRILANKA in Sept. 2005.
TAAI – 59th ANNUAL CONVENTION held at DUBAI, U.A.E. in Sept. 2009.
Domestic:
Annual Conventions of TAAI (5)& IATO(4) from 1999 to 2005
FEAST, International body of Tourism, convention held at Chandigarh in Oct.2002
CII Events 'Mystique Madhya Pradesh' at Bhopal & Delhi in 2000- 2002 respectively
EVENTS ORGANISED
South Asian Mayors Meet – July 2003, an event of Indore Municipal Corporation & All India Mayors Association.
Role : Hospitality incharge & Led 80 management students volunteers team.
'Indore Gaurav Mahotsav ', an NRI event – Dec 2002, an event of Indore Municipal Corporation & Indore Gaurav Foundation.
Role : Hospitality & transport incharge.
All India Vice Chancellor's Meet – Feb 1999
Role : Incharge Travel Desk.
Organized & supported events of Zee T.V. i.e. Zee Cine Star ki Khoj, Zee Sa Re Ga Ma Pa, Rock N Role Family etc. between August 2006 and March 2009
II Special Convocation Ceremony of DAVV , Indore held on 28th January 2007
National Conference of Shanti Swarup Bhatnagar Awardee held from 8th March to 10th March, 2007 at DAVV , Indore
'Global Investors Summit' an event of Govt. of Madhya Pradesh was held during Oct 2007 at Indore
Role : In charge for hospitality and Lead 250 management students volunteer team.