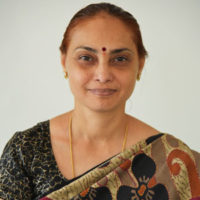 Dr. Suman K. Murthy
Associate Professor
Qualification: MSW., M.Phil., Ph.D
Area of Specialization: Psychiatric Social Work
Research experience: Teaching: 15 years, Research:8 years Industry: 9 years
Research: Gerontology
Publications: National : 02, International:03
Paper Presented: 03
Workshop /Conference / Seminar/ FDP attended : Conference:03, Seminar:02, FDP:03
Member of Professional Bodies:
Member, Indian Society of Professional Social Work;
Member, Karnataka Association of Professional Social Workers
Registered as Rehabilitation Professional under RCI;
Member, World association of Psychosocial Rehabilitation.
Projects:
A Study on the Impact of Environmental Awareness Module among Graduate Students Sponsored by Karnataka Knowledge Commission, Bangaluru. Project completion – November 2012.
A Study on the Perceived Hurdles and Providing Awareness to Mothers with regard to the Right to Education Act in Mysuru. UGC sponsored Minor Research Project. Project completion: September 2016.
International Journals :
Suman K Murthy(2016). Right to Education Act: Perceived Hurdles and providing awareness to mothers in Mysuru city, Karnataka state, India. IOSR Journal of Humanities And Social Science (IOSR-JHSS) Volume 21, Issue 10, Ver. 6 (October.2016) PP 50-58 e-ISSN: 2279-0837, p-ISSN: 2279-0845. www.iosrjournals.org
Suman K Murthy, Laxmi Putran, Nireekshan Singh Gowgi S K &Nuthana D Balekoppa.(2014). Impact of Environmental Awareness Module among Under Graduate Students. Journal of Global Economy. VOL 10, NO 2.94-109. Print Version ISSN 0975-3931; Online Version ISSN 2278-1277
Suman K Murthy (2013). Parenting Styles: Research Openings. Journal of School Social Work. Vol. No. X, Issue. ISSN: 0976-3759
Suman K Murthy(2012). Psycho social Rehabilitation. Samaja Karyada Hejjegalu. Vol 10(II) ISSN No. 2230-8830.
Prafula S, Suman K Murthy, Dharitri Ramaprasad (2010). Family Burden and Rehabilitation of a Rural Mental Health Camp in a Southern State of India. Journal of Psychosocial Rehabilitation,Psychosocial.com, Vol 15(2), 5-12, July 2010-June 2011, ISSN 1475-7192, ADG, Southern Development Group, SA
Paper Presentations
Suman Murthy presented a paper entitled "Scope for Social Work Practice with Institutionalized Elderly in India" at XXX  ISPSW annual conference held at NIMHANS, from 5 to 7thJanuary 2012. Paper abstract published in the souvenir of the conference.
Guided and co authored a paper entitled 'CSR Initiative of Maharatna Companies"  at the UGC sponsored National conference Social Work Response to CSR challenges, at Dept. Of Social Work,  PBMMEC, Mysuru held on 20.11.2015
Co authored a paper in the National Conference on "Inclusive Growth and Sustainable Development: Social Work Interventions" organised by Vijayanagara Sri Krishnadevaraya University, Ballari, Dept. of Studies and Research in Social Work, PG Centre, Nandihalli- Sandur 583119 held on 12thand 13thApril 2017. Paper Title: A study on Impact of Watershed Programme on Farmers' Livelihood in K R Nagar, Mysuru
Suman K Murthy, attended a five day refresher course from 12.05.2016 to 16.05.2016  Southern Regional Workshop on " Techniques and Skills involved in addressing Issues of Gender in Teaching and Research" organised jointly by Karnataka State Women's Commission, Samruddhi Foundation and Achala Quarterly.