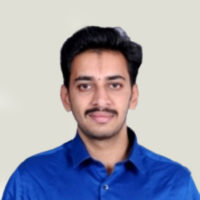 Mr. Shreenidhi N V
ASSISTANT PROFESSOR
Qualification:M. Com, (KSET, NET qualified)
Area of Specialization:Financial Management
Work Experience: Teaching:4 & 1/2 years
Research Experience: 3 & 1/2 years
Subjects Teaching:Financial Management, Derivatives, International Business.
Number of Publications: National- 1  & International- 1
Papers Presented:6
Workshop /Conference / Seminar/ FDP attended  : Conference-08, Workshop-01, Webinars-04
Academic Achievement:Certificate Course on GST from Shivaji College in association with ICAI, University of Delhi, New Delhi
Obtained Gold Medal in Financial Management Specialization subject in M. Com during 2016.
PAPER PRESENTED AND PUBLISHED
Paper publication
Published paper on Bitcoin: A cryptocurrency in Digital Economy at International Journal of Management and Research. ISSN Print: 2249-8672. April 2018
Published paper on Dormant Company: A revival tool for young entrepreneurs.   ISBN:978-93-5300-741-6. May 2018.
Papers presentation
Presented paper in International conference on Sustainable Development: Role of Business Education & Research", at DOS in commerce, Manasagangotri, Mysore,21-03-2018.
Presented paper in National Level Seminar on Entrepreneurial Development in India: Issues and Challeneges at Vidyavardhaka First Grade College, Mysore,24-03-2018.
Presented paper in International conference on Dynamics of Entrepreneurship at Teresian College, Mysore, 27-11-2018.
Presented paper in National level seminar on Emerging trends in Commerce and Management at MMK & SDM Mahila Mahavidyalaya, Mysore, 11-02-2019.
Presented paper as Co-author in National Women's Congress on Merger of Public sector banks: Is it a bane or booster for banks at Mahajana's PG Centre Mysore 8-11-2019
Presented paper as Co-author in National Women's Congress on A Study on impact of Reliance Jio on Telecom Industry at Mahajana's PG Centre Mysore 8-11-2019