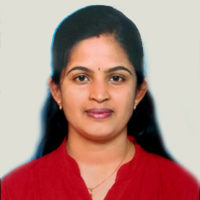 Ms. Vibha P
ASSISTANT PROFESSOR
Qualification: CA (Inter), MBA
Area of Specialization: Finance
Work Experience: Teaching: 4 months, Industry: 7 months
Subjects Teaching: Corporate Taxation, Project Management, CSR Accounting, Auditing & Reporting
Workshop /Conference / Seminar/ FDP attended: 4
Attended 'MIST Program' an Integrated Skills Training Programme, conducted by MICA (Mysore Institute of Commerce and Arts)
Attended 'Carpe Diem, Make Intern', a workshop conducted by IIM Calcutta a program on E- Business.
Participated in International B-Plan Championship Makeintern held in IIM – Kozhikode
Attended FDP on 'Goods and Service Tax – GST' conducted by VTU, the Department of Studies in Business Administration.
Other Academic activity: Co-ordinator/Mentor for Entrepreneurial skills.
Other Achievements: Secured 4th rank in MBA from University of Mysore.