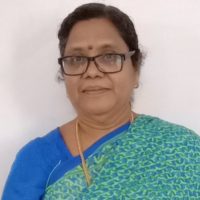 Dr. Bettina C Sudhaker
Assistant Professor
Qualification: MA Eco, Ph.D
Additional Qualification: NET with JRF
Area of Specialization: International Trade and Finance, Managerial Economics
Teaching experience: 20 years
Research experience: 30 Years – Principal Investigator, Consultant Analyst
Professional Experience: 20 years – Consultant Economist
Project Experience: 20 Years – Consultant Project Reviewer, IEC consultant, Chief Investigator, Project Coordinator
Publications: International : 3, National : 9
Workshop /Conference / Seminar/ FDP attended  : Workshop:2, Conference:8, Seminar:6
PROFESSIONAL REPRESENTATION
CII Panel on Finance and Taxation, CII, Mysuru (2019)
Chairman, Board of Studies, Department of Studies in Economics, Pooja Bhagavath Memorial Mahajana Education Centre, PG Centre (2019)
Member, Board Of studies, JSS Centre for Management Studies (2010-2018
Member Board Of Examinations,  JSS Centre for Management Studies (2010-2018)
PROFESSIONAL TRAINING
NIRD – Project Identification, Product Identification, Value Added Products and Market Diversification
BESO, UK :
Project Identification and Project Funding Avenues by Moira Pool
Human Relations and Management Decisions in Industrial Sector by Ms. Caroline Brett
Resource Material Design & Preparation by Julie Wright
Designing of Training Materials by Julie Wright
Survey and sampling by David Reynolds
Water Quality, health & hygiene by David Reynolds
Water quality monitoring & surveillance by David Reynolds
PROFESSIONAL EXPERIENCE
Chief Investigator, JUSSCO, Mysore, Survey and mapping of Vidyanagara, Agrahara, Gayathripuram, Kyathamanahalli, Nazarbad and Gunduraonagar Wards (2009)
Consultant Project Reviewer, Karnataka Rural Water Supply and Sanitation Agency, Bangalore, Enumeration of villages of Udupi, Karkala and Kundapura Districts for 2008 Nirmal Gram Puruskar awards under Total Sanitation Programme (2008)
IEC Consultant, UNICEF through ZillaPanchayath, Mandya, Total Sanitation Programme in Mandya District (2005-2007)
Consultant Chief Economist, Organization for the Development of People and Nirmithi Kendra, Rural Projects, (2004-2007)
Chief Economist and Project leader, Tina Voluntary Trust (An NGO) – (2001-2010)
Chief Investigator
Involvement in the Impact Study of the Shishu Samrakshak Health Portal in six districts of Mysore District, A UNICEF project)
Rural Hygiene and Sanitation in rural schools in Mysore district adopted by UNICEF, UNICEF through ZillaPanchayath, Mandya
Department of Public Health Engineering, Govt. Of Karnataka, Analysis of a total number of 2, 00,000 records collected and processed for the Water Quality Surveillance and Monitoring (1998 -2001).
Co Researcher, Analysis of data on Commercial Banks and Integrated Rural Development Program in 1988-1989, A Research Project by Department of Economics, University of Mysore
Participant Researcher, Socio-Economic Survey of Suttur village in Mysore 1989, A Survey Project, Department of Economics, University of Mysore
Co-Principal Investigator for the project in Management funded by ICSSR, Govt., of India, New Delhi, 2013-2016
Chief Investigation Officer of the Grant in Aid project of Ministry of Tribal Affairs, Government of India, 2007, Impact of Microcredit on ST Women in Mysore, Chamarajnagar districts.
PAPERS PRESENTED/PUBLICATIONS
E-BANKING SERVICES – AN EXTENDED ARM FOR ENHANCEMENT OF BANKING PERFORMANCE: A VASE STUDY ON SBI – Co-authored with PavithraGowtham at National Conference on Recent Trends in Banking and Finance (December 2017) JSS S & T University, Mysore
FX VOLATILITY AND ITS IMPACT ON CORPORATE PROFITABILITY- A CASE OF TECH MAHINDRA LIMITED co-authored with PavithraGowtham at International Conference on Emerging Trends in Accounting and Finance(February 2017), Jain University, Bangalore
MEASUREMENT OF  SUSTAINABLE DEVELOPMENT   – A CHALLENGE at International Symposium on Innovation and Management, JSS CMS, SJCE, Mysore 2012
EMERGING ISSUES IN THE NON-PROFIT SECTOR-A MULTI NEXUS MODEL INVOLVING UNIVERSITY-COMMUNITY ENGAGEMENT INITIATIVE – co-authored with Varkey Jacob at National Conference, JSSATEB MBA, Bangalore 2015
" ROLE OF MICRO CREDIT IN THE DEVELOPMENT AND EMPOWERMENT OF RURAL TRIBAL WOMEN– A CASE STUDY OF MYSORE DISTRICT" at First International Conference on Recent Developments in Economics, Economic Development, Econometrics, and Financial Management at New Delhi on September 2008
"IMPACT OF PRODUCT DIVERSIFICATION AND VALUE ADDITION, MARKET DIVERSIFICATION ON THE TRANSFORMATION CURVE OF THE RURAL ECONOMY" at NIRD Workshop, 2008
"PRIVATIZATION OF SELECTED PUBLIC SECTOR UNITS" at Karnataka Economic Association 14th November 1988
"TECHNOLOGY AND EMPLOYMENT IN FIVE YEAR PLANS" at 27thAnnual Conference of Indian Society for Labor Economics, February 1987
"INTERNATIONAL MONETARY SYSTEM" at Annual Conference of Indian Economic Conference, December 26th-29th, 1985
"EXPORT PATTERN IN INDIA'S FOREIGN TRADE – AN ANALYSIS" at Annual Conference Karnataka Economic Association, 18thand 19th October 1985
"SOUTH-SOUTH MONETARY COOPERATION – A LUBRICANT FOR CLOSER ECONOMIC CORPORATION AMONG THE DEVELOPING COUNTRIES" in Economic Times, June 1988
"SOUTH-SOUTH TRADE – A FUEL FOR ECONOMIC GROWTH" in Southern Economist, August 1987
"ECONOMICS SCENARIO OF SOUTH-ASIAN COUNTIES" – A leading Article in Major News Papers (Indian Express, Times of India) on the eve of SAARC meeting in November 1985
STAFF WORKING PAPERS
"Green National Income Accounting – Genuine Savings for the sustainable development" at the Department of Studies in Management, SJCE, Mysore, April 2013
"From Innovation to Imitation – A Relook at the Vernon's Product Life Cycle theory in the present context of globalization" at Department of Studies Management, SJCE, Mysore, November 2012
"Re-Visitation of Tieboult Model in the present context of Urbanization" at Department of Studies in Management, SJCE, Mysore January 2012
"Economic and Financial Growth Model for the sustenance of business Schools – A Case of JSS Center of Management Studies in SJCEat Department of Management, SJCE, Mysore January 2012, August-September 2011
GUEST LECTURES/RESOURCE PERSON
CURRENT TRENDS IN TODAY'S ECONOMY at JSS Polytechnic for Women, Mysore, 2013
LPG IN INDIAN CONTEXT – AN ANALYSIS at JSS Polytechnic for Women, Mysore, 2014
BUSINESS ECONOMICS – AN OVERVIEW at JSS Polytechnic for Differently Abled, Mysore, 2014
PRA – AN IMPORTANT TOOL IN IMPACT ASSESSMENT OF SOCIO-ECONOMIC PROJECTS at CSR-CoE, Mysore, 2015
BUSINESS ECONOMICS AND BUSINESS DECISIONS at JSS Polytechnic for Differently Abled, Mysore 2015
TQM and ProductionEconomics at JSS Polytechnic for Differently Abled, Mysore 2017
Economic Tools to avoid Managerial Pitfalls at Two Day Workshop on Economic Tools for Decision Makers -Unleashing the power of Applied Economics, 2019
PROGRAM COORDINATOR
Convener of Two Day Workshop on Economic Tools for Decision Makers -Unleashing the power of Applied Economics at PoojaBhagavat Memorial Mahajana Education Centre, PG Wing, 2019
EDP Workshop at PoojaBhagavat Memorial Mahajana Education Centre, PG Wing, 2019
CryptoCurrency and Investment Banking at PoojaBhagavat Memorial Mahajana Education Centre, PG Wing, 2019
National Conference on 'Crisis in Indian Banking sector – Issues & Concerns' at PoojaBhagavat Memorial Mahajana Education Centre, PG Wing, 2018
Seminar on 'Relevance of Gandhian Thought on Economic Ideas and Social Work in Contemporary World' at PoojaBhagavat Memorial Mahajana Education Centre, PG Wing, 2018
Workshop on Emotional Intelligence – EQ is a more reliable predictor of academic achievement than IQ at PoojaBhagavat Memorial Mahajana Education Centre, PG Wing, 2018
Industrial Interaction Lecture Series – 'A Need for Sustainable Business Models in Today's Business Environment' at PoojaBhagavat Memorial Mahajana Education Centre, PG Wing, 2018
CORPORATE COMMUNICATIONS at JSS CMS, JSS S&T University, Mysore 2018
EMOTIONAL INTELLIGENCE AND PERSONALITY DEVELOPMENT at JSS CMS, JSS S&T University, Mysore 2018
INVESTMENT BANKING AND CORPORATE FINANCE at JSS CMS, JSS S&T University, Mysore 2018
GST WORKSHOP FOR THE JSS ACCOUNTING AND ADMIN STAFF at JSS CMS, JSS S&T University, Mysore 2017
EDP WORKSHOP for Corporate Finance Managers in making at JSS CMS, JSS S&T University, Mysore 2017
BUDGET CONCLAVE 2016 at JSS CMS, JSS S&T University, Mysore 2016
PUBLIC ADMINISTRATION AND MANAGERS at JSS CMS, JSS S&T University, Mysore 2016
EMOTIONAL INTELLIGENCE AND TEAM LEADERSHIP at JSS CMS, JSS S&T University, Mysore 2016
INVESTMENT BANKING AND FINANCIAL MARKETS at JSS CMS, JSS S&T University, Mysore 2016
PROGRAM DESIGN
Involved in designing;
Designing the Economics Syllabus for M A in Economics under Autonomous for Department of Studies in Economics PoojaBhagavat Memorial Mahajana Education Centre, PG Wing, Mysore, 2018
SC., HONS IN ECONOMICS for JSS S&T University, Mysore 2018
MBA IN CORPORATE FINANCE for JSS CMS, JSS S&T University, Mysore 2016
EMBA Syllabus forJSS CMS, JSS S&T University, Mysore 2016
Revised MBA CSR Syllabus for CSR-CoE in 2015